Nathan Redwood and Folkert de Jong's tandem solo exhibits at DENK, which feature Redwood's paintings on walls surrounding de Jong's floor sculptures, integrate the two artists' discrete yet analogous flairs for applying satirical humor to classical figuration. Each artist idiosyncratically re-imagines olden icons to comment upon contemporary life.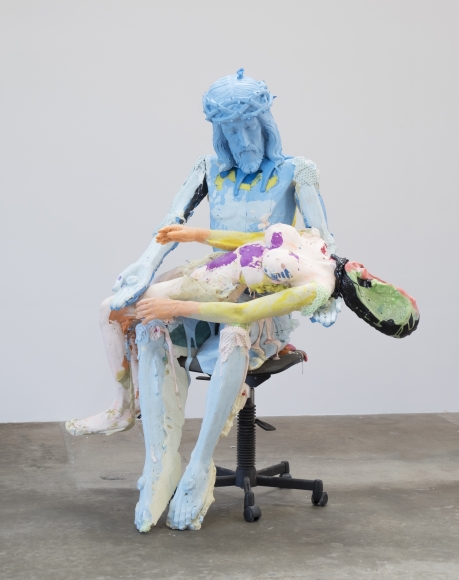 Folkert de Jong, Pietà 2 (2017), courtesy of the artist and DENK Gallery.
De Jong's sardonic references include Jesus Christ, Picasso and Shirley Temple. His sculptures are most eye-catching for their gaudy pastel coloration and tawdry construction. Cast of garishly pigmented polyurethane, his approximately life-size figures almost seem to parody Charles Ray's impeccably finished cast figures. Each of de Jong's mannequin-like protagonists appears to be sloppily splotched throughout with clashingly hued paint. Certain aspects, such as faces, are sharply delineated; while others, such as feet, are grotesquely uncrystallized.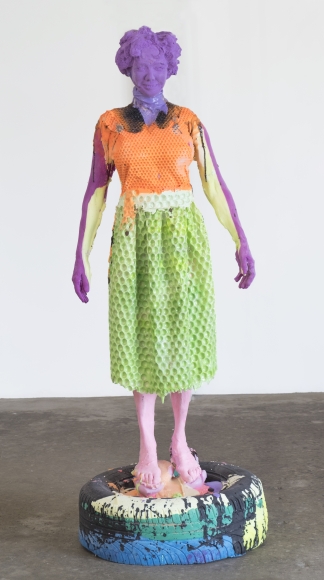 Folkert de Jong, Shirley (2017), courtesy of the artist and DENK Gallery.
De Jong's slovenly, irreverent portrayals induce laughter for their sheer improbability. In Pietà 2 (2017), for instance, a cotton-candy-blue Jesus sits on a messy secretary chair and stiffly cradles a female nude whose absurdly bulbous head bears a concavity instead of a face. The superficially mirthful tenor of such depictions gradually disappears, however, as one grasps their more serious implications. Upon examination, seemingly whimsical deformities, such as the aforementioned cerebral concavity, become wounds, lacerations and injuries. One senses the frozen, damaged dummies' sugarcoated lack of agency. Their rubbishy contrivance betokens a throwaway society that unhesitatingly trashes entities perceived to have outlived prime usability.
Nathan Redwood, Hermanos (2018), courtesy of the artist and DENK Gallery.
"After Tin Man," the title of Redwood's show, brings to mind the dissevered, dehumanized body of L. Frank Baum's fictional Wizard of Oz character. His paintings' polished refinement markedly diverges from De Jong's rough-hewn aesthetic. With luminous, stained glass-like jewel tones counterpointing de Jong's matte pastels, Redwood's paintings also suggest invisible authority and portray figures misshapen by circumstances outside their control. Hermanos (2018) suggests contemporary American politics by way of symbolic color, depicting a kneeling blue figure and a red figure bent under the weight of an "X"-shaped curtain of tangled cords. The tenebrous Godhead (2017) appears as an anonymously mask-like locus of power.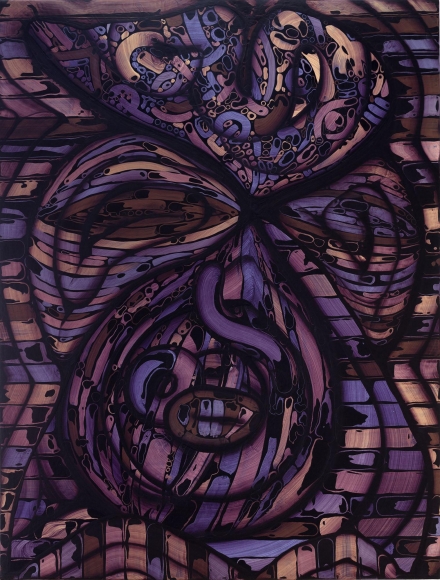 Nathan Redwood, Godhead (2017), courtesy of the artist and DENK Gallery.
Each of these two artists employs a singularly vibrant, quirky figuration in order to implicitly question institutionalized power structures. The effect is intriguingly open-ended, provoking contemplation.
Nathan Redwood, "After Tin Man," and Folkert de Jong, "Cathedra," April 14—May 26 at DENK, 749 E. Temple St., Los Angeles, CA 90012.